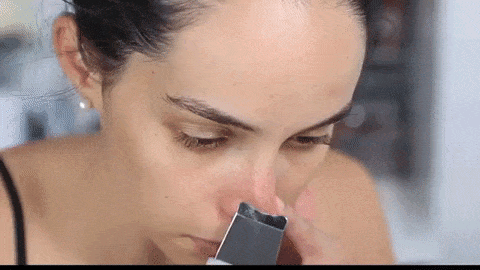 Features:
Upgraded Skin Scrubber Spatula : High-frequency vibration helps clean the skin deeply, gently exfoliate, absorb nutrients, make the skin bright, shiny and elastic.
Large Screen Display & Adjustable 4 Modes : This skin scrubber has 4 adjustable modes plus 4 power levels. Removes blackheads, dead skin, dirt, oily impurities on your face.
Gentle and Easy to Use : The skin spatula is made of 100% stainless steel which is safe to use. This face Spatula is totally a gentle form of exfoliation and very easy to use.
Great for At-home Facial : This skin scrubber exfoliator can be charged via laptop, computer, power bank.  It's the easiest way for anyone to royally muck up their face.
Specifications:
Item: Ultrasonic Facial Skin Scrubber
Voltage: DC 5V
Battery capacity: 500mAh
Rated power: 1.5W
Product material: ABS
Product size: 43x15x172mm
Net weight: 76g
Continuous use time: 50 minutes
Charging time: 2H
Package Includes:
1 x Ultrasonic Facial Skin Scrubber