Features :
Premium materials: Smart Hula Hoop weighted exercise made of hard ABS plastic to prevent equipment aging, which is safe and durable.
Easy to use: 360-degree shock-absorbing massage ring allows you to exercise comfortably and relieve the labor pain in the lower back that has been sitting for a long time. The smart hoop is easier to use and will never fall, even beginners can use it.
Detachable design tits all shapes body: Consisting of 24 detachable parts, diameter 120cm / 47.24inch, detachable with a simple push of a button. You can adjust it according to your waistline. Suit for waistline 31inch – 47inch.
Quiet bearings: 3 set upgraded 360-degree silent rollers can even and flexible rotate, making the smaller noise and smoother rotation.
Great service: if you have any doubts about products, don't hesitate to contact us, we are always here to help.
Specifications:
Material: ABS
Weight: Up to 3 Pounds
Bracket/Size: 24 Bracket (Adjustable Section), Waist Up to 47 Inches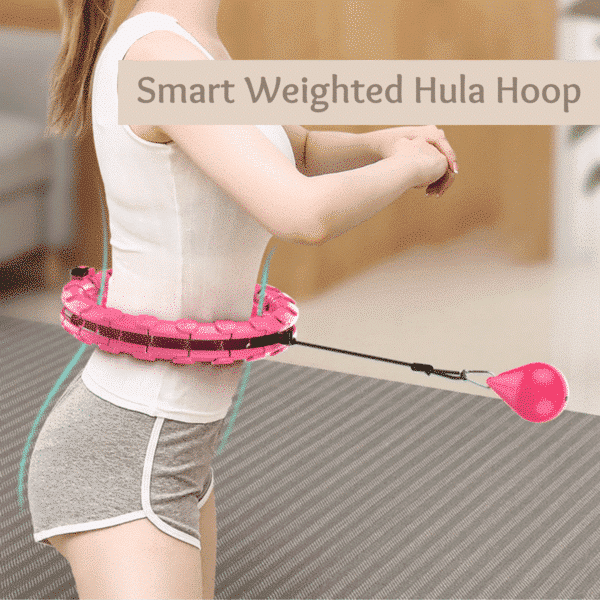 You can get the perfect body goal that you desire with the help of this Smart Hula Hoop
Helps burn calories
Toned-up your body
Massage shock absorption
No-slip
No pain
Notes :
This Smart Hula Hoop is composed of sections, which helps to increase or decrease the number of slides on the main body and to adjust the waist size.
The hoop balls does not contain fillers, please fill it by yourself. You can change the number of weight-bearing blocks in the weight ball according to their own bearing, it is recommended not to exceed 200g.